Dave Tooley's Scooter Racing Photo Page5

These pages are in their infancy. There are many more photos to be scanned and I still have an awful lot to do with them such as identify all riders and tracks. However I think it's worth a look to anyone who is interested in the sport of Scooter Racing from yesteryear.
Also please visit my
Dave Tooley's Scooter Racing Links Page
Please, if anyone can identify unknown riders or if I have mistaken them for others , do not hesitate to contact me and correct my errors. Thank you!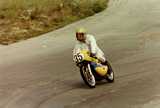 Perhaps this last series of photos explains the question "What ever happened to Ron Moss" These photos were taken in '76'.
Ron had a go at racing a 'Wildcat' 125cc Yamaha prepared by Les Rafferty.
Links to favourite Scooter Racing websites:
David's Lambretta Page Site (Huge collection of links)
Racing Lambretta's (The ultimate scooter racing site)

Send me an email about Scooter Racing
Problems with a link? Mail me.

Copyright © 2000 - 2006 David Tooley. All rights reserved