Dave Tooley's Rafferty Newman Page
More Priceless Pictures

Also please visit my Dave Tooley's Scooter Racing Links Page
Please Click On Images For Bigger Picture
Sorry about the poor quality, but this is all that remains from an unforgettable era.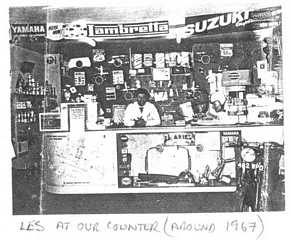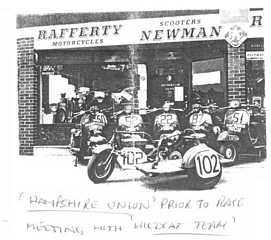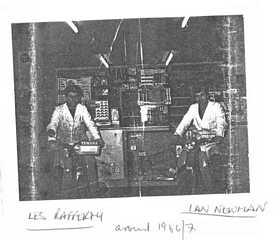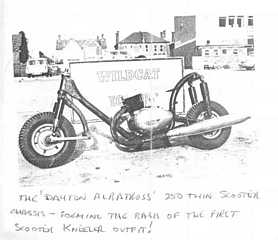 This was the first stage of the racing kneeler sidecar chassis for the Dayton Wildcat 250cc twin.
Based on an English designed Dayton Albatross scooter, and using the original (but Les tuned) Villiers 250cc Twin Cylinder engine, this machine had the potential to be an immediate race winner. I believe it made its debut at Thruxton in 1970, whereupon it was so fast, they promptly banned it. With its two expansion chambers roaring away, its bright blue and golden yellow Wildcat paint job, and being one of the first original scooter kneelers it looked and sounded absolutely magnificent. But just like the X5 multiport induction barrels, every time Les Rafferty came up with something innovative, it was promptly banned.
I was trying to remember what happened to the chassis, then 'Ned' Newman told me that Les sold it to Jenny Stevens for her Maico 250cc engined outfit.

Send me an email about Rafferty Newman
Problems with a link? Mail me.
Copyright © 2000 - 2006 David Tooley. All rights reserved