A History of Rafferty Newman 'Wildcats' (Part 1)
(as seen through the eyes of Dave Tooley)

Also please visit my
Dave Tooley's Scooter Racing Links Page
I first became interested in motor sport in the late 60"s via a very cryptic route… my way home from school. It took me directly past the Rafferty Newman motorcycle shop in the west end of Fareham. I could never resist popping in for a while every day to review the latest high performance models on offer. As a young and very naïve 15 year old I would often dream of the day I could walk in and purchase a bike, and ride off into the sunset.
After a while I got to know the employees of the shop very well, since I spent a large amount of my leisure time hanging around the showrooms. This unhealthy interest in 2 wheeled transport eventually caught the eye of the guys who worked in the shop, and I got to chatting to them frequently. Many of them were involved in racing scooters themselves, they were generally a very friendly and sociable group and they all belonged to the Hampshire Union Scooter Club.
The rather garish two tone livery of the blue and golden yellow "Wildcat Lambretta " works racing scooters could often be seen tearing around the streets of the surrounding area, with one of the works riders running in a new engine before a race meeting.
The following week the bikes would be displayed outside the shop-front with a board proudly boasting of their machines successes, with an array of photos of the event.
(Les Rafferty was an enthusiastic photographer)
Les learnt his engineering skills during his national service, working as an aircraft mechanic. He was a perfectionist when it came to engine preparation, and would not tolerate any shoddy workmanship or short cuts.
What many people didn't know was that Les was a motorcycle racer himself in the 50's, racing an Ariel Arrow in the Isle of Man TT races amongst other places. This bike used a 250cc twin cylinder Villiers two stroke engine, which Les became an expert at tuning for speed. During this period he got to ride against and become friends with many of the later very big names in motorcycle sport, such as Frank Sheene (Barry Sheene's illustrious father) I will touch on this again a bit later.
Riding the wave of success from their race machines, a flood of orders soon followed into the business for Wildcat tuning accessories. I well remember a friend of mine, who worked in the same Aerospace company as me, spending many a long weekend making some extra money by machining inlet conversion manifolds on one of Les Rafferty's workshop lathes.
Les became a victim of his own success, with more work coming in than he could possibly cope with. The X5 multi-port induction conversion that was advertised for sale was only ever done by Les himself. It was an incredibly time consuming exercise, involving many hours of laborious machining, grinding and polishing of the barrels, plus some complicated work on the pistons as well. All the advanced race porting was also only ever done by Les. Many a midnight lamp was seen burning at Rafferty's workshop during those early years. I cannot believe it was ever a viable money maker, but was a good marketing exercise for its innovation.
In fact the workshop became a meeting and focal point for most of my fellow bike riders during that era. Most nights of the week, we would descend on Les and keep him company whilst he laboured away. At least that was our excuse. (It was somewhere warm and dry to go on those long winter evenings.) If he ever minded, he never showed it, though it must have got on his nerves at times.
My first ever venture into the world of racing occurred at Thruxton raceway in Andover during the spring of 1970. One visit and I was hooked. It was the first outing of the innovative Dayton 250 twin sidecar outfit that Les had built during the winter of '69. It was based on a Villiers 250 twin two stroke engine used in some obscure British Scooter (Dayton). Les hoped he could breathe his magic into this engine along the lines of his earlier success with his Ariel Arrow. Potentially it was a race winner, since in theory at least it should produce vastly more power than anything that could be squeezed out of a single cylinder lambretta engine. The outfit went like the clappers, and looked and sounded every inch a winner straight from its very first outing. However, it was too quick for its own good, and was promptly banned by the racing authorities of the time. The following season Les had an outing as passenger on another outfit at Lydden Hill circuit, with his good friend and ex Motorcycle Sidecar racer George Matthews at the helm. This venture ended in disaster when they were forced off the track at the infamous left hander at the bottom of Hairy Hill. They ploughed into the bank at high speed, and then were launched skyward, flying over the tops of the marshals stationed there.
(Photograph courtesy of Tony Walsh)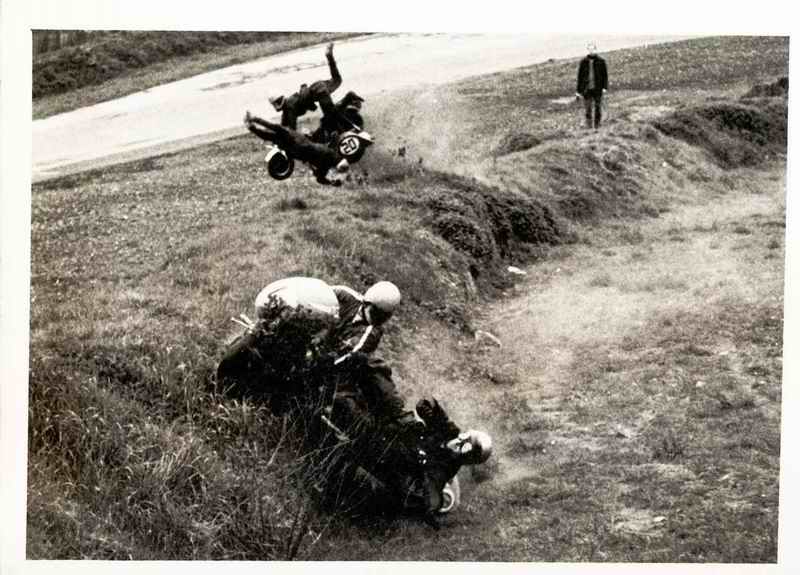 Les crashed to the ground on the other side, losing consiousness in the collision. In the pits his family and friends (myself amonsgt them) all spent a worrying time awaiting for the ambulance to arrive, and ferry them both off to hospital. I well remember trying to console one of his daughters, who was in a terrible state after seeing her Dad being stretchered off whilst still unconcious. Thankfully they both fully recovered from their ordeal, albeit with a few broken bones, and Les carried a scar across his face for the rest of his days to remind him of the event. From then on, Les stuck to riding solo machines.
The mail order business for scooter spares boomed, but the rest of the motorcycle business was expanding as well, eventually forcing a move into new premises to accommodate the large collection of motorcycles on offer. Following on from this, Les's workload became increasingly onerous, and something had to give. The first casualty was working on other peoples engines. From this point on, he concentrated on only his race teams machines. It was about this time that I entered the sport. I spent a very frustrating first year on an underpowered machine, battling for mid to lower place finishes, and see myself being lapped not just once but sometimes twice at short circuits like Lydden Hill. It was quite awesome to have the likes of Chris Watson (P.J.Oakley works rider) Nick Barnes (Arthur Francis 'S'type) and Tom Pead (Roys of Hornchurch) plus a variety of other Supertune machines come hurtling past just as I'd lined myself up for a comfortable angle of lean through a bend. It was a good way of learning how to take corners at a much higher velocity than I was used to though. I hated being left for dead purely through engine power, and not getting a chance to compete on equal terms. This was put to rights later on in my racing career.
A History of Rafferty Newman 'Wildcats' (Part 2)
Send me an email about Rafferty Newman Wildcats
Problems with a link? Mail me.
Copyright © 2000-20018 David Tooley. All rights reserved