Dave Tooley's Wildcat Story Page

Also please visit my Dave Tooley's Scooter Racing Links Page
Please Click On Images For Bigger Picture
Dave Bowen, one of the founder members of Hampshire Union Team Wildcat, sets off for a high speed event
at an Isle of Man Scooter Week in the late 60's.
The machine is an LI series 2 fitted with a Wildcat 225cc dykes piston motor, and a Series 1 horncast and headlight.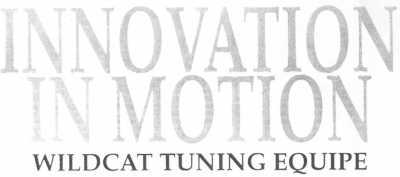 THE EARLY DAYS
Rafferty Newman first started trading at the end of May 1966. It was a partnership set up by two friends who worked together at an ailing British motorcycle dealership called Lawton and Wilson. Les Rafferty was a brilliant mechanic and engineer, and it was him who had persuaded a reluctant Ian Newman to set up in business together doing scooters and motorcycles. Ian had already tried once to set up on his own at the age of 17, but he was deemed too young to be allowed to administer Hire Purchase agreements, and without that facility his business floundered in two years..
One of the first things the partnership did was to buy up all the Lambretta stock from Lawton and Wilson when they folded, so quite naturally they ended up with many of the old shops Lambretta customers, and involvement with the brand continued until the present day.
One of Les Rafferty's main interests was in two stroke tuning. He had previously worked as an aircraft engineer, and had ported his own Ariel Arrow 250cc bike. Soon this skill was applied to the many scooter customers who wanted their machines made faster.
At that period in the sixties, Britain had strong unions who weren't afraid to use strikes to get their way in pay disputes. The buzzword of the day for instant improvised industrial action was 'Wildcat Strikes', and Ian suggested that this might be a good name for the tuning branch of the Rafferty Newman shop, associating Wildcat with instant action. Les agreed, and Wildcat Tuning was born.
At around the same time a new club was setting up in the area for sport orientated scooterists called Hampshire Union. With many of them being regular customers to the shop, and Les being very enthusiastic about sport, it was decided that Rafferty Newman would support Hampshire Union racing as Team Wildcat.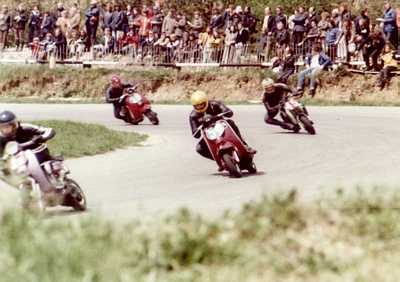 Lydden Festival of Speed in 1974. A works 200cc Wildcat chases a group 6 machine. This Sx200 was totalled in that year, with the engine and rear wheel remaining the only useable parts left.
INNOVATING STATION
Les turned his mind to all sorts of different ways of increasing the power of the scooter engines, at first by cylinder porting, and then by boring the cylinders out to accept larger capacity pistons. Tuning theories of the day dictated that it was very important to raise the primary compression in the crankcase, so the holes in Lambretta crankshafts were packed with cork plugs and Araldite. Another innovation was the Wildcat primary compression plate for Lambrettas. This was basically a flat alloy plate that sat under the spigots of the barrel, and had a hole in it for the con rod to pass through.
Probably the most famous Wildcat conversions were their 5-port barrels. It would take Les an entire week of late nights in the workshop to modify a Lambretta barrel with two extra transfer ports, which remained visibly standard from the outside. First of all a barrel was dramatically overbored almost out to the original stud holes. Then Les would painstakingly carve two channels from the original transfer ports all around the inside of the barrel that ended up above the inlet port. After a lot of hunting around, Les had found a car cylinder liner (possibly for a Fiat 500 car) that could be machined to fit as a replacement liner inside the Lambretta barrel once cut with the new port layout (four transfers and a single exhaust port.
Ian Newman recalls that fewer than 10 of these 5 port barrels were ever made. There were 200cc, 150cc, and even a 125cc Vega Lambretta barrels converted to 5 port, and possibly a Vespa SS 180 barrel as well. When one of the 5 port barrels found its way on to the race track in the 200cc Standards class, it performed a bit too well for the sports governing body and was promptly banned. As far as Ian Newman was concerned, the racers banning the 5 port couldn't have been better. He immediately placed adverts in the scooter magazines with 'The barrel they banned from racing' plastered all over it., and this drew lots of attention and business to Wildcat. Manufacture of the 5 port barrels was never commercially viable anyway because making them was so labour intensive, and while results with these kits were very good, it was not beyond what was obtainable with regular porting work.
After the race ban, 5 port barrels were only offered in the catalogue on brand new wildcat Lammy's bought from Rafferty Newman, but Wildcat conversions continued, using specially made GPM conversion pistons in high silicon alloy and featuring 'L' shaped Dykes piston rings. Literally 1000's of cylinder bore conversions were carried out on barrels posted from all over the UK. Perversely, Wildcat had a very big customer base in far away Teeside, Ian recalls.
The popular setup for road Lambrettas at the time was a Wildcat barrel (either bored or bored and ported) Royspeed or Ancilloti racing exhausts, and Wildcat conversion manifolds for fitting Wal Philips fuel injectors or Amal carbs.
Send me an email about Wildcat Scooters
Problems with a link? Mail me.

Copyright © 2000 - 2006 David Tooley. All rights reserved