Dave Tooley's Crystal Palace Page
November, 1970
Scooters at Crystal Palace once more
Also please visit my Dave Tooley's Scooter Racing Links Page

Report by Peter Clarke.
Photographs by John Haigh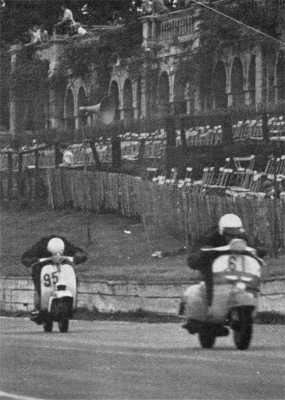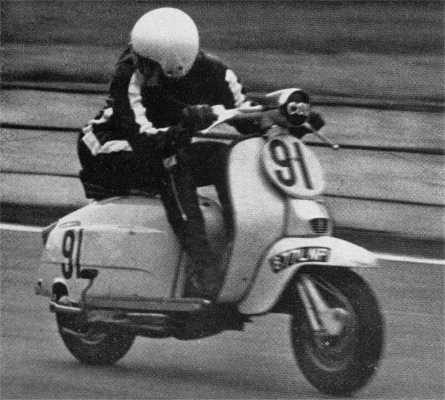 Above left: D. Jones of West Middlesex Vespa Club on a 180cc Vespa leads No. 95, on a Lambretta.
Above right: Dave Cox of Epsom Scooter Club-looks back. Dave came third in Class F.
The first true scooter meeting at London's Crystal Palace on 27th September was a huge success. In fact it was so successful that next year this high-speed trial will be one of the rounds in the British Scooter Track Championship.
Secretary of the Championship, Brian Williams, who was also the commentator at the meeting explained in between announcements that the meeting was only a "friendly" with no points being won or lost.
Not since 1960 had the sound of scooter engines been heard at the Palace. Then a scooter race was held in conjunction with a motor-cycle meeting.
But this time there was not a motor-bike in sight. Over 150 scooterists paid £3 a time for the privilege of using the Palace track. Officials explained that the high entry fee was necessary to cover the cost of hiring the circuit from the Greater London Council. At first the GLC asked £600 but had been beaten down to £450.
Full points must go to the London Region Vespa Clubs who did all the organising work-only to see nearly all awards go to Lambretta riders.
But Class A (up to 77cc) and Class B (78-100cc) were won by Vespa riders Colin Hart from the Hampshire Union and Trevor Sharp from Bromley VC. Colin and Trevor were jointly presented with an award for the highest placed Vespa Club of Britain member.
The scooters were split into five groups according to cubic capacity and each group had three 15 minute burn-ups around the track, attempting to maintain a high average speed. Officially riders were not racing against each other but against the clock.
The winner is the rider who is nearest to the set number of laps for his class.



Links to favourite Scooter Racing websites:
David's Lambretta Page Site (Huge collection of links)
Racing Lambretta's (The ultimate scooter racing site)

Send me an email about Scooter Racing
Problems with a link? Mail me.

Copyright © 2000 - 2006 David Tooley. All rights reserved